PUBLISHED: August 2, 2018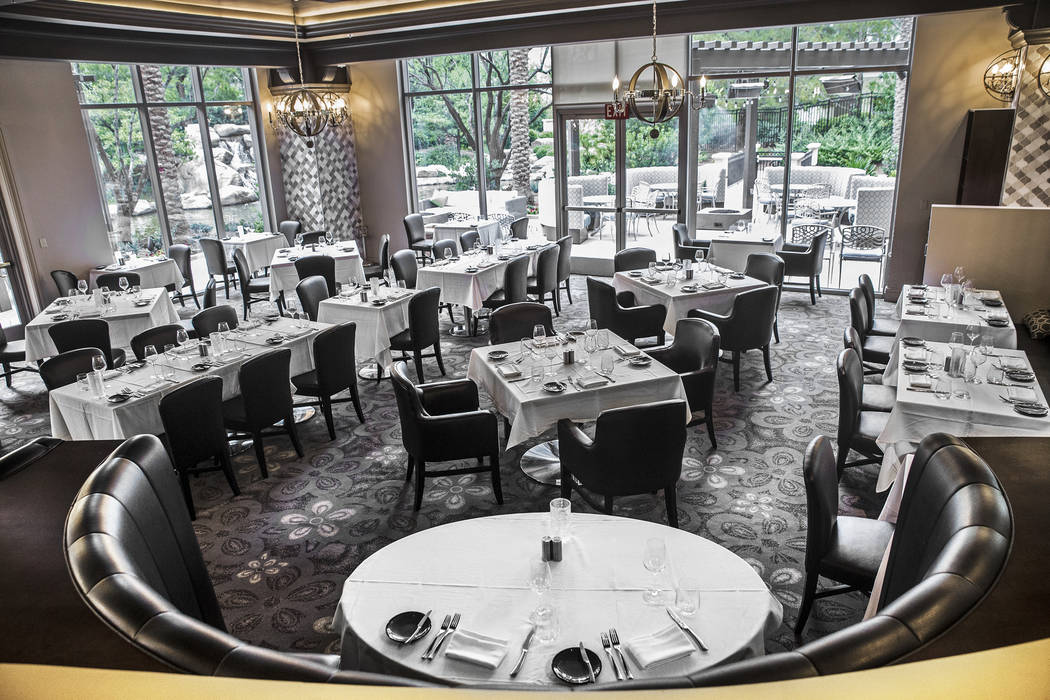 Hawthorn Grill at JW Marriott Las Vegas Resort & Spa spices up their menu with a wide variety of new items from breakfast to dessert.  Power lunch enthusiasts can also grab the new Executive 45-Minute Express Lunch which guarantees the luxury of a fine-dining experience in a speedy setting.  Dinner guests can wind down the day with the extensive wine and cocktail program and relax on the outside patio alongside waterfalls and koi ponds while they enjoy dishes from both surf and turf.  Guests can also enjoy the convenience of free valet parking near the restaurant at the Spa Tower entrance.
Along with fan favorites like Tagliatelle Pasta, Prime New York Striploin, and Smoked Kurobuta Pork Chop, Hawthorn Grill now offers new dinner menu items from salads to dessert:
Steak Tartare – egg, capers, anchovy, crispy garlic, Dijon, sourdough bread
Gem Lettuce Salad – buttermilk dressing, radish, parmesan, breadcrumbs
Hawthorn Shrimp Salad – butter lettuce, tomato, avocado, red onion, cucumber, carrot, garlic, guajillo chili dressing
Roasted Asparagus – tomato, hollandaise, tarragon
Roasted Chicken – peas, pearl onion, mushroom, spinach, garlic
Short Ribs – carrot, roasted lettuce, ginger, shitake mushroom
Halibut – artichoke, fennel, roasted garlic, lobster, rouille
Idaho Rainbow Trout – lemon herb butter
Cut of the Week – Chef's weekly selection
In addition to the Hawthorn Soufflé, Seasonal Ice Cream and their Trio of Seasonal Sorbets, Hawthorn Grill's menu of sweet treats now includes:
Double Dip Almond Donuts – pistachio, raspberry, lemon, chocolate, served with Nutella sauce
Lemon Meringue Tart – lemon cream, Italian meringue
Chocolate Mousse Dome – caramel crème brulee, almond cake, caramel sauce
Strawberry Cheesecake – strawberry, graham cracker cookies
Artisanal Cheese Plate – chef's selection of cheeses, candied walnuts, apricot purée, crostini
In addition to the new Executive 45-Minute Express Lunch (choice of salad, entrée, and dessert) for $19, lunch-goers can also opt for new items including:
Roasted Salmon Salad – tomatoes, chickpeas, feta, mint, roasted peppers, romaine, lemon vinaigrette
Gem Lettuce Salad – buttermilk dressing, radish, parmesan, breadcrumbs
Pan-Seared Rainbow Trout – haricot vert, pearl onion, pesto, lemon
Soft Scrambled Egg Sandwich – crème fraiche, brie, black truffle, bacon, chives, on a brioche bun
Whether breakfast-goers are looking for wellness or indulgence, Hawthorn Grill recently unveiled a new morning menu sure to delight a variety of tastes.
Smoked Salmon Avocado Toast – poached egg, scallions, jalapeno, almonds, red onion
Salmon Egg White Frittata – roasted vegetables, kale, guacamole
French Toast – maple custard, candied almonds, orange zest, whipped cream
Nutella Pancakes – caramelized banana, toasted hazelnut, Nutella
Belgian Waffles – blueberries, whipped crème fraiche, lemon zest, maple syrup
Soft Scrambled Egg Sandwich – bacon, chives, brie, black truffle, brioche bun
Shrimp & Grits – bacon, ancho chili, roasted tomatoes, cilantro, fried egg.
Hawthorn Grill also has a full juice and smoothie menu including: Immunity, Cleansing Carrot, and Revitalizing Blend juices, as well as Energy Elixir, Nourish Potion, and Recharge Remedy smoothies.  For brunch lovers, Hawthorn Grill offers a Sunday brunch buffet from 9 a.m. – 1 p.m. every Sunday complete with live entertainment for $29.99.
To book reservations, please call 702.507.5955 or visit www.hawthorngrilllv.com for more information.
Hawthorn Grill is open daily for breakfast 6 – 11 a.m. Monday – Saturday and 6 – 9 a.m. on Sunday with the daily breakfast buffet. Beginning at 9 a.m. Sunday mornings is home to Brunch with live music, brunch favorites, and mimosas and bloody marys served until 1 p.m. Lunch is served daily Monday – Saturday 11 a.m. – 2 p.m. Dinner service is available 5 – 10 p.m. Sunday – Thursday and 5 – 11 p.m. Friday and Saturday. The bar and lounge is open daily from 4 – 11 p.m. Sunday – Thursday and 4 p.m. – 1 a.m. Friday and Saturday. The Hawthorn Grill patio is available to guests for breakfast, brunch, lunch, Happy Hour and dinner.
About Rampart Casino
Rampart Casino, an elegant 50,000 square foot casino, offers more than 1,600 slot machines, two dozen gaming tables, a 300-seat Bingo Room and a newly remodeled Race & Sports Book. Rampart Casino's Resort Rewards club program offers exclusive resort benefits and rewards based on play, such as dining, spa and golf discounts, plus complimentary room nights at the JW Marriott Las Vegas Resort & Spa. For the latest Rampart Casino news, follow on Facebook (RampartCasino) and Twitter (@RampartCasino). Contact the casino at 702-507-5900.
About the JW Marriott Las Vegas Resort & Spa
The JW Marriott Las Vegas Resort & Spa offers world-class luxury just 20 minutes northwest of the famous Las Vegas Strip. The Las Vegas resort is accessible to Las Vegas Speedway, TPC Las Vegas and a number of other golf courses. The JW Marriott features 548 well-appointed guest rooms and suites set amid 54 acres of lush gardens. Voted as one of the Top 5 Las Vegas Resorts by readers of Condé Nast Traveler, and recognized as a Top-Performing Business on TripAdvisor ranked in the top 10% worldwide for traveler feedback, the Las Vegas resort also includes a full-service spa, state-of-the-art fitness center, 33 meetings rooms with 100,000 square feet of flexible space, more than 10 restaurants serving American, Italian, Japanese and Mediterranean cuisines and the on-site Rampart Casino. For information, visit www.marriott.com/LASJW, Stay up to date with the JW Marriott Las Vegas Resort & Spa on Facebook and Twitte